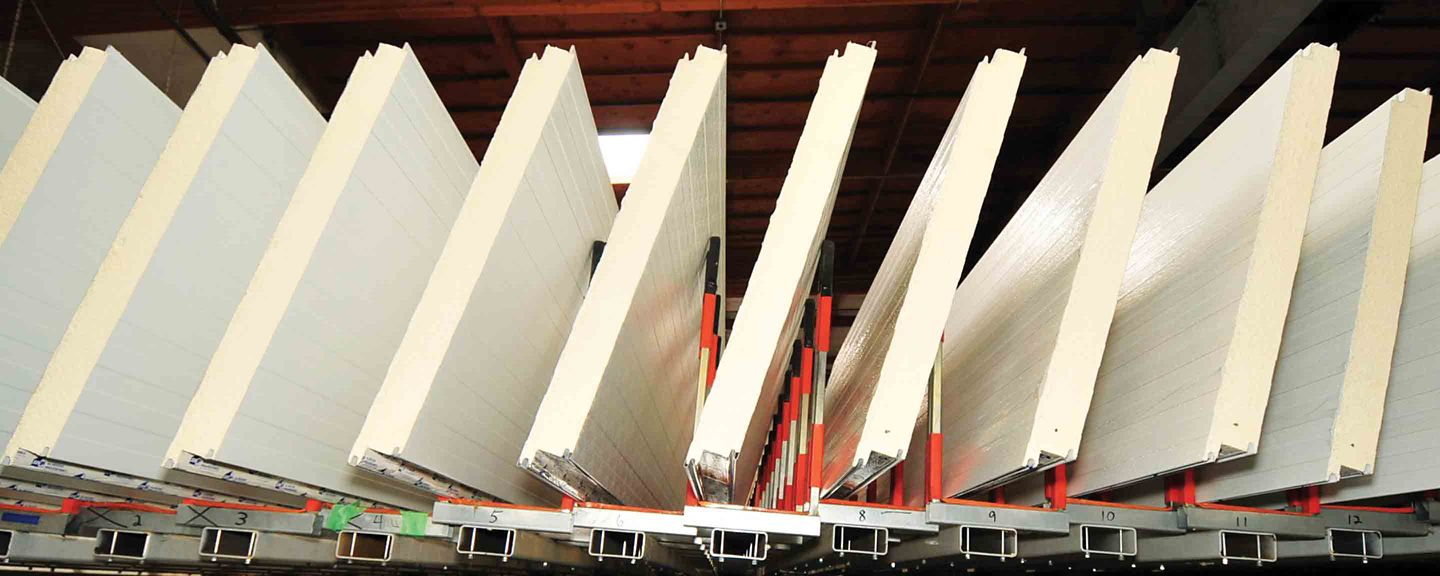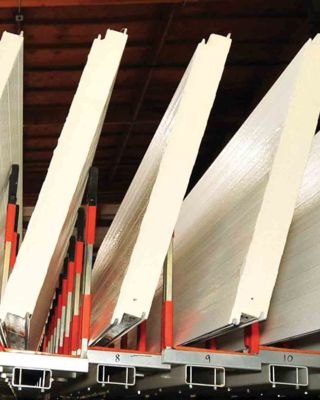 INSULATED METAL PANELS / BOARDSTOCK
Improve Thermal and Environmental Performance

Panels and boardstock rely on blowing agents to help meet increasing energy-efficiency and performance requirements. Panels are important insulating components of walk-in freezers, refrigerated shipping containers (reefers) and trailers, cold storage, emergency shelters, modular school classroms and architectural panels. Insulated metal panels (IMPs) are typically formed with polyurethane (PUR) or polyisocyanurate (PIR) foam sandwiched between two metal sheets to make composite roof, wall, and partition panels. Our blowing agents improve foam performance in IMPs.
With outstanding thermal performance and a GWP of 1, Solstice® LBA is a balanced solution to environmental and performance challenges in insulated metal panel applications. It is a sustainable alternative to isopentane for PIR board in residential and commercial buildings.

When used in insulation panels, Enovate® 254fa blowing agent provides discontinuous and continuous IMP manufacturers with a wide range of processing and performance benefits. It's an ideal replacement for HCFC-141b and HCFC-22.
Contact us to learn more about our foam blowing agents for insulated metal panels.
Products
Solstice LBA for Panels
Enovate 245fa for Panels
Brochures & Videos
Case Studies
The standard in HFC technology for polyurethane foam applications worldwide.

Read More
Pour-in-Place Panel Blowing Agents: Solstice LBA

Superior Insulation Performance

Increases R-value of conventionally processed PUR and PIR foam in both continuous and discontinuous panel operations
Up to 2mW improvement compared to pentane blown boards
Translates to a thinner panel to achieve desired performance
Low GWP
GWP of 1
Supports compliance with current and future environmental regulations
Advanced Physical Properties, Mechanical Stability, and Nonflammability
Improved thermal performance
Proven nonflammablility
Significantly better dimensional stability at high temperatures than systems formulated with pentanes or HFC-134a
Higher compressive strength than IMPs formulated with pentane, HFC-134a or HCFC-141b
Ease of Use
"Drop-in" replacement for conventional panel processing equipment
Working with major systems producers to ensure required testing and data is available to meet most applications
Requires no investment in plant equipment to meet flammability or other special concerns
Straightforward and cost-effective transitions
Enovate 245fa for Panels and Boardstock
Greater Energy Efficiency

10% higher R-value (at 30°F / -1°C) compared to hydrocarbon-blown panels in internal tests
Greater Dimensional Stability and Durability
Will not condense in foam as the temperature drops in typical cold storage applications (Panels formulated with other foam blowing agents experience condensation, which can lead to dimensional stability issues in the finished panel.)
Panel durability further enhanced by excellent adhesion to metal skins and compressive strength
Regulatory Compliance
Meets Montreal Protocol requirements
Supports compliance with phase-out of HCFC-141b
Minimal Conversion Costs
Rapid deployment
"Drop-in" replacement*
* Minor equipment modifications may be necessary, depending on how current foam blowing agent is stored and routed through facility
Excellent Processing with Favorable Cost Implications
Excellent flow properties
Good solubility in polyols
Potential foam density reductions
Possible waste reduction due to ease of processing
Improved Environmental and Safety
Nonflammable (ASTM E-681, EU A11)
Non-ozone-depleting
VOC-exempt (per U.S. EPA)
Foam cores blown with Enovate meet the ASTM E-84 Class 1 specification
Foam cores blown with Enovate require no special handling during installation
Solstice® LBA - Insulated Metal Panels | sell sheet
Solstice® LBA - Insulation Technologies for Polyisocyanurate Boardstock | sell sheet
Solstice®LBA - Bally Panel Systems with Speed-Lok™ Technology | sell sheet
Solstice® LBA - High Performance Refrigerator Insulation | sell sheet
Enovate® 245fa - Cost-Effective Replacements for HCFC-141b | sell sheet
Solstice® LBA - Increased Thermal Performance with Lower Environmental Impact in Commercial Appliances | case study
Boxcold adopts Solstice® LBA for Long-Term Value in Cold Storage | case study
Boxcold adopta Solstice® LBA Para Crear Valor a Largo Plazo en el Sector de las Cámaras Frigoríficas | casa práctico
Boxcold Adotta Solstice® LBA per Ottenere un Valore a Lungo Termine Nello Stoccaggio a Bassa Temperatura | case study